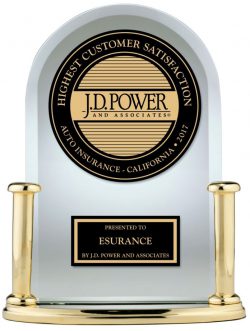 Esurance, the direct-to-consumer auto and home insurance provider for the modern world, announced it has received the J.D. Power award ranking the highest in customer satisfaction among auto insurers in California.
The J.D. Power 2017 U.S. Auto Insurance Study examines customer satisfaction in five factors: interaction; policy offerings; price; billing process and policy information; and claims. It found that Esurance out-performed the competition in overall customer satisfaction, ranking the highest in California.
"Esurance is changing insurance for the better. Insurance for the modern world is simple, fair, and affordable – and involves relentless focus on the customer," said Jonathan Adkisson, president of Esurance. "I am pleased to see customers' recognition of our efforts to deliver a great experience, and we continue to improve on that experience to meet modern customers' evolving needs. Our customers have peace of mind to enjoy their lives without worry because they are protected with Esurance."
To improve the customer experience, Esurance makes customer satisfaction its first priority, identifying common insurance pain points and solving them. Esurance leverages the latest technology to offer competitive prices and a simple, efficient experience, while providing customers with personal care from knowledgeable experts.