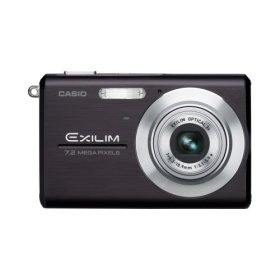 The Casio Exilim EXZ75 is a small and lightweight pocket camera. This new model follows Casio's release last year of the 7.2-megapixel EX-Z70, a camera that featured the slim looks, quick shooting style, and large LCD display of an Exilim. The EX275 offers improvement with camera setup and shooting. The menu bar on the right side of the screen makes it really simple to use and adjust settings. The EX-Z75 menu is separate from the subject shown on the monitor while shooting enabling users to simultaneously change settings on the LCD display when shooting. The Easy Mode menu has a wide array of camera settings (flash, self-timer, and image size) the "best shot" mode is very useful as it customizes the camera's settings according to the type of picture being shot. The battery life is excellent. The wide LCD display offers quick reviewing with better image clarity.
There is also an Ebay features that allows users to compress the final picture and upload to Ebay. The eBay Best Shot mode also includes Auto Macro, an ideal setting for capturing images of small items such as jewelry, tags, etc., thus automatically adjusting the focus from acquiring fine details in close up shots to capturing large items from a distance. Sometimes, the Casio EX Z75 refuses to take pictures while flashing "underexposure" on the screen. Though this camera is simple to learn and operate, this particular snag may leave users confused on how to rectify this problem. The external body is not scratch resistant and requires protective casing. The camera works well except in poor light conditions when images tend to blur. Overall, the Casio Exilim EXZ75 is a great point and shoot pocket camera for everyone. It is available in different colors allowing users to choose one of their choices.

Product Description
The Exilim Zoom EX-Z75 Digital cameras features a Wide LCD Display for improved image viewing and ease of use while delivering an effective 7.2 Megapixels. The EX-Z75 features the slim looks, quick shooting style including Anti Shake DSP for reducing photo blur due to shaky hands or moving subjects. Its 2.5-inch wide LCD display, makes it enjoyable for users to capture breathtaking wide aspect ratio images, making the camera functions easier to see and operate. Pictures taken in a portrait format can be manually rotated for playback in landscape format. Auto Exposure Control Light Meter – Multi Pattern, Center Weighted & Center Spot ISO – Auto up to 800 White Balance – Automatic, fixed 6 modes, manual switching Self-Timer – 2, 10 Seconds & Triple Self-Timer Recording Modes – Single image, Best Shot, movie with sound, single image with voice, Continuous Shutter, Voice Recording, macro, self-timer Built-in Electronic-Flash System – Auto, manual-on, manual-off, Red Eye-Reduction, Soft Flash USB/AV Interface with NTSC & PAL compliant Input/Output Terminals Battery Life – Up to 230 Stills Dimensions – Width 3.76 x Height 2.39 x Depth 0.77 inch (95.4 mm x 60.6 mm x 19.6 mm) Weight – 122 grams without battery and memory card.
Technical Details
7.2-megapixel CCD captures enough detail for photo-quality 15 x 20-inch prints
3x optical zoom; 2.6-inch LCD Wide and Bright display
eBay Best Shot takes photos at a size that is image optimized for display on eBay
Easy Mode for simple shooting with intuitive menus
Stores images on SD memory cards (8.0MB internal memory included); powered by lithium ion battery (battery and charger included)