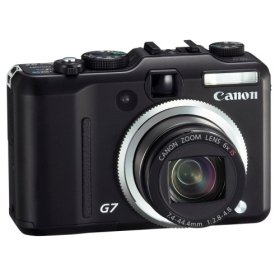 The Canon Power Shot G7 is among the Canon's flagship midsize fixed camera series. The Power Shot G7 produces an image quality and optical performance greatly in demand by advanced photographers. The 10.0 Mega pixel sensor captures the fine detail and allows for reproducing fairly large photo quality prints with added cropping flexibility. The SR lens coating technology greatly reduces chromatic aberration and ghosting and elongates its life. The Power Shot G7's LCD screen has a protective coating for scratch and light reflection. The Safety Zoom feature allows users to magnify the camera's zoom range without affecting the image quality. The Canon G7 allows shooting in various shooting modes that are power backed by auto exposure bracketing, focus bracketing and neutral density filter. The Power Shot G7 is equipped with hot shoe support for Canon speedlite flash units that can be used with a range of optional converter lenses. The shortcut button next to viewfinder doubles up as print/ share button for directly printing on the printer. Repetitive functions can be assigned to this shortcut button to save time and tedious access of controls. The powers hot G7 works exceedingly well in low light conditions. It is also equipped with a custom white control for minimizing unusual light exposure. The custom color option lets the user set the contrast, sharpness, saturation and color skin tone.
The G7 uses the smaller NB-2LH battery that offers only limited battery life compared to its peers. The 32 MB memory card that comes bundled with the purchase demands an immediate replacement because of its near to null storage capacity. Considering the weight aspect the G7 is a fairly bulky camera. The outer case of G7 is cluttered with buttons and dials making it difficult for careless holding without accidentally pressing any of these. The Power Shot G7 does find place of itself in the compact category but not the pocketsize easily slide camera category.

Product Description
Canon's acclaimed G-Series has a new top-of-the-line model, and serious photography enthusiasts have a lot to be excited about. A matte black, retro-hip design houses impressive capabilities and top core specifications, including 10.0 megapixel resolution and a powerful 6x optical zoom. Loaded with Canon's latest and most advanced technologies, including an Optical Image Stabilizer for clear shots throughout the zoom range, PowerShot G7 is a camera to be reckoned with. Sensitivity – Auto, High ISO Auto, ISO 80/100/200/400/800/1600 equivalent Built-in multimode Electronic-Flash Battery Capacity (per charge) Still Image – approx. 220 shots (NB-2LH/LCD on) approx. 500 shots (NB-2LH/LCD off) per CIPA SD Memory card slot; direct connection to Canon CP and SELPHY Compact Photo Printers, PIXMA Photo Printers and PictBridge compatible printers via camera's USB 2.0 Hi-Speed cable NTSC and PAL Video output Playback Modes File – Still Image – Single, Magnification (approx. 2x-10x), Jump, Auto Rotate, Rotate, Resume Playback, My Category, Histogram, Index (9 thumbnails), Sound Memos, Slide Show; Movie – Normal Playback, Special Playback, Editing Erase Modes – Still Image – single image, by date, by category, by folder, all images; Movie – part of movie, all of movie Monaural audio output Unit Dimensions (W x H x D) 4.19 x 2.83 x 1.67 in. / 106.4 x 71.9 x 42.5mm; 11.3 ounces.
Technical Details
10-megapixel CCD captures enough detail for photo-quality 18 x 24-inch prints
6x image-stabilized optical zoom; 2.5-inch vari-angle LCD with wide viewing angle
9-point AiAF, single point AF, Flexizone AF, and Face-priority AF
Continuous shooting in other modes besides Sports
Stores images on SD memory cards; powered by Canon NB-2LH or NB-2L Lithium-Ion batteries