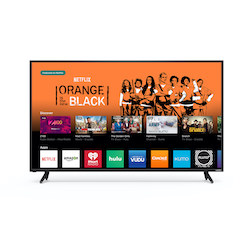 VIZIO, Inc. announced today the rollout of VIZIO SmartCast TV to 2017 VIZIO SmartCast™ E-Series Ultra HD Display models. SmartCast TV is the latest way for viewers to quickly access the content they love from popular apps right from the big screen with just a tap of the remote. An intuitive home screen greets viewers with content recommendations along with top apps such as Amazon Video, Crackle, Hulu, iHeartRadio, Netflix, Pluto TV, Vudu and XUMO1. Now rolling out to 2017 E-Series UHD displays through an internet update, VIZIO SmartCast TV gives users another way to control the content they love.
VIZIO SmartCast TV users can browse new shows, music and movies – including titles in 4K Ultra HD and HDR, where available – and then launch content directly from their displays with the touch of a button on the new 2017 remote. The "Discover" section offers other exciting benefits of SmartCast TV. By aggregating popular and trending content from multiple sources all in one place, this section allows users to browse selections without toggling in and out of multiple apps and also makes it easy for consumers to discover hot, new offerings. Once they choose their content, consumers can not only control the selection through SmartCast TV, but with the VIZIO SmartCast MobileTM app as well, giving users two ways to control content and all settings on their VIZIO SmartCast displays.
To use SmartCast TV some owners who previously purchased eligible displays may need the new VIZIO SmartCast remote, which features the V-button to provide one-button access to the VIZIO SmartCast TV user interface, along with shortcut keys to top apps. For a limited time and while supplies last, owners of eligible models can receive the new VIZIO SmartCast remote either free or for a nominal fee by visiting vizio.com/remote (some conditions apply).
"VIZIO SmartCast TV gives users more than one way to access their favorite TV shows, music and movies," said Matt McRae, Chief Technology Officer, VIZIO. "With apps on the big screen, SmartCast TV is perfect for fans of traditional TV who like to use a dedicated remote control along with digital natives and second screen users who prefer searching and controlling their viewing experience on their mobile devices. Consumers deserve multiple ways to stream the entertainment they love, and SmartCast TV allows for just that."
While SmartCast TV brings apps to the big screen, the free VIZIO SmartCast Mobile app for iOS and AndroidTMtransforms mobile devices into the ultimate touchscreen remote. The latest version of the app features a new navigational menu that allows users to easily browse SmartCast TV from their mobile device. Select SmartCast TV apps, such as Netflix, can be launched on-screen using SmartCast TV or via SmartCast Mobile utilizing a mobile device. SmartCast users can start a show using their remote via SmartCast TV, pause from any room in the house with SmartCast Mobile and even continue playback with their voice using Google Assistant on devices like Google Home. VIZIO SmartCast Mobile also lets users search for content across multiple apps at once, for even faster discovery and playback.
All VIZIO SmartCast displays feature Chromecast built-in, which allows viewers to browse thousands of Chromecast-enabled apps – including 4K and HDR content from apps like Netflix2 and Vudu – on their mobile devices. By simply tapping the Cast button in Chromecast-enabled apps, consumers can stream their favorite shows and movies right to the big screen. The Quick Start Mode allows VIZIO users to turn their displays on automatically by launching a Chromecast-enabled app and tapping the Cast button. The display will then power on and start streaming the selected entertainment.