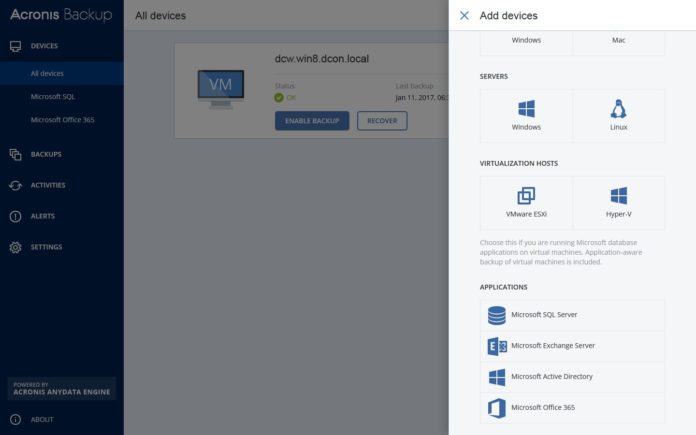 Acronis, a global leader in hybrid-cloud data protection and storage, today announced the addition of Microsoft Office 365 backup functionality to the world's fastest and most complete small business backup solution, Acronis Backup 12, enabling businesses to protect all data, local and in the cloud, with a single solution, single configuration, and a single interface.
Acronis Backup 12 has been well accepted, delivering over 40% growth in adoption in 2016. In keeping with Acronis' Cloud-First strategy, Acronis Backup 12 adds new Microsoft Office 365 backup features that have been available in Acronis Backup Cloud solution since July. Acronis has seen significant adoption of the features that enabled Cloud Service Providers to protect their customers' Microsoft Office 365 environments.
Microsoft Office 365 services deliver unprecedented flexibility and scalability, changing the way small businesses manage their email infrastructure. Acronis provides additional backup by enabling protection of cloud workloads with Acronis Backup 12, giving businesses full control over the protected data, and allowing them to keep it locally or in the cloud for long-term access or archiving purposes.
"Small and midsize businesses worry about control, worry about security, and worry about cost. Tying things together in a comprehensive way gets harder as firms grow and data protection becomes an ever bigger chore. Acronis has data control as a key product capability and SMBs will appreciate the ability to coordinate and manage diverse data," said Ray Boggs, Vice President, Small and Medium Business Research at IDC.
According to the latest Data Protection Cloud Strategies report produced by Enterprise Strategy Group, nearly three quarters of the surveyed businesses intended to protect their public cloud data in a location other than their production environment's cloud, realizing that an interruption or problem in the cloud can potentially take away not only the production data, but also the backups. 44 percent of the respondents said they move data to a different cloud for speed and convenience, and 29 percent said they prefer keeping a copy of their cloud data in-house.
Microsoft Office 365 backup
Acronis Backup 12 provides easy protection for Microsoft Office 365 with:
Automatic backup of Microsoft Office 365 emails, including contacts, calendars, tasks, and attachments;
Ability to store backup data locally or in the cloud, for long-term access or archiving purposes;
Preview, browsing and searching capabilities of the backup content;
Ability to recover individual and shared mailboxes to the original or an alternative location;
Ability to recover and deliver individual items by email without restoring the entire backup;
Acronis Active Protection™ against ransomware: protecting user devices and data by blocking the attacks and instantly restoring affected data (will be available in the next update).
Support for VMware vSphere 6.5 and other improvements
This update also introduces support for VMware vSphere 6.5 — agentless and agent-based VM and ESXi host backup, support of VMware CBT, Acronis Instant Recovery™, Acronis vmFlashback™, Replication with WAN optimization, and other technical and performance improvements.
Complete protection of all data
Acronis Backup 12 offers protection for more than just Microsoft Office 365 or VMware vSphere 6.5 workloads. In fact, Acronis Backup 12 is the single solution that protects all data, in all locations and in any environment. It is designed to enable businesses to remain in control of their data even when transitioning to the cloud or managing their hybrid cloud infrastructure.
All virtual Environments: best-in-class backup and recovery of virtual machines and hosts;
All cloud: easy backup and recovery of Microsoft Azure VMs, Amazon EC instances and Microsoft Office 365 mailboxes;
All physical: Microsoft Windows, Linux, Mac servers and workstations, also iPhone, iPad, and Android devices.
All applications: Microsoft Exchange, SQL Server, SharePoint, Active Directory, and much more.
"Today small businesses depend more on Microsoft cloud-based services to run their businesses. But cloud data also needs to be protected and available to ensure business continuity. Microsoft Office 365 email backup extends the functionality of Acronis Backup 12, offering complete protection of the entire digital image of a small business," said Serguei Beloussov, founder and CEO of Acronis.
"We're pleased to see Acronis' commitment to Microsoft," said Rob Howard, director, Microsoft Office 365 Ecosystem. "By extending the benefits of Acronis Backup to Microsoft Office 365, Acronis is helping provide our mutual customers with a robust and easy-to-use experience."
Pricing and Availability
Acronis Backup Office 365 Subscription Licenses are available online and from local distributors. The monthly price per mailbox ranges between $1.67 and $3.33 depending on geography, volume and the subscription term.