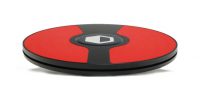 3dRudder Wireless, the new foot-powered movement controller for virtual reality, elevates the virtual experience for PC and mobile games, plus compatibility with a broader range of VR headsets.
A CES 2017 Innovation Awards Honoree in two categories, Gaming and Accessible Tech, 3dRudder Wireless adds a fourth axis of motion for total VR immersion while leaving hands free to use other devices and experience the full wonder of VR.
3dRudder Wireless, launching at CES 2017, joins the currently available 3dRudder Original that has a USB cable connection and introduced the world to a totally new way to move in VR for CAD software design, B2B marketing and, of course, gaming.
Designed to be used while seated, the circular 3dRudder disc makes movement in VR as natural as driving a car or walking down the street. Pressure sensors and heel-toe movement help you effortlessly move front/back, left/right/, rotate left/rotate right, and up/down with minimal fatigue. Small, fluid moves make it easy to navigate, jump, crawl, run, shoot or otherwise survive, for example, in a post-apocalyptic virtual world.
Based on the simple premise that using your feet is the most intuitive way to get around, 3dRudder lets you move the way you're used to through worlds you've never seen.
Beyond gaming
3dRudder was designed by an architect yearning for a foot-powered 3D mouse to allow him to use his hands for design while moving in a 3D CAD software environment. Architecture, real estate, tourism and healthcare industries are looking at 3dRudder as part of their entry into the VR mindset.
3dRudder Wireless – everything from 3dRudder PLUS …
Compatible with gaming systems on Windows PC systems, Android mobile, Steam and other platforms
Compatible with Oculus Rift®, HTC Vive®, Samsung Gear®, Google Daydream® and other VR headsets
Bluetooth 4.0 connectivity
Projected availability summer 2017 at $199
PLUS all the features of the original 3dRudder …
3dRudder Original
Compatible with Windows PC systems, games, hand controllers, Oculus Rift®, HTC Vive®, and more
Customizable through the user-friendly 3dRudder Dashboard
Easy storage. Slim, low profile slides out of sight when not in use.
Built-in rechargeable 5v battery – 12 hours minimum autonomy
Weighs less than four pounds