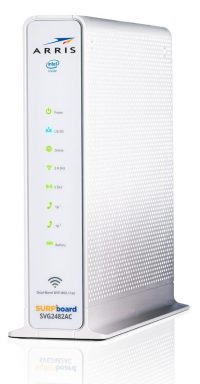 Packed with state-of-the art technology and features, the SURFboard SVG2482AC is one of the most advanced gateways on the market. Its trifecta of blistering broadband speeds, ultra-fast, integrated Wi-Fi (802.11ac), and advanced phone functionality, makes the SVG2482AC ideal for cable internet and voice subscribers looking to purchase their own device.
For streaming the latest 4K content, experiencing the smoothest online gaming, getting fast Internet speeds, the SURFboard SVG2482AC stands alone. And it is available for purchase from Amazon.com.
The innovative SURFboard SVG2482AC is also the first retail voice gateway equipped with RDK-B technology to be approved for use on the XFINITY network. The RDK-B software solution provides a common method to manage complex broadband functions such as home-networking interfaces (including Wi-Fi), device management, and diagnostics.
"Our new SURFboard SVG2482AC Voice Gateway is designed to deliver XFINITY subscribers an exceptional experience. It combines top-shelf Wi-Fi connectivity, super-fast download speeds, unmatched voice reliability and service enhancements through RDK-B," said Sandy Howe, SVP and GM, Consumer Products Group at ARRIS.
"ARRIS is proud to announce the first retail gateway with embedded RDK-B technology and look forward to continue to add more innovations to our SURFboard portfolio of retail broadband and home networking devices," Howe continued.
"RDK's standardized software stack and collaborative approach enables operators to accelerate the deployment of next-gen products and services to their customers," said Steve Heeb, President & General Manager, RDK Management LLC. "With the SVG2482AC, ARRIS continues to be at the forefront of adapting the RDK software into its products."